In this article:
Do you ever get a distressing feeling that you're not reaching audiences as effectively as possible? If the answer is yes, you might have FOMA: the fear of missing audiences. It's a common ailment among advertisers. But fear not; with the right data and advertising strategy, you can overcome FOMA and know that you are reaching your desired audience whenever and wherever they're consuming content.
It's important to recognize that the fear of missing audiences is not unfounded. Missed connections happen all the time. Often, they result from a total market approach, which does not account for the nuances of how different audiences consume content. Many of those nuances have developed as the United States grows increasingly diverse. The map below illustrates a county-level change in diversity since 2000.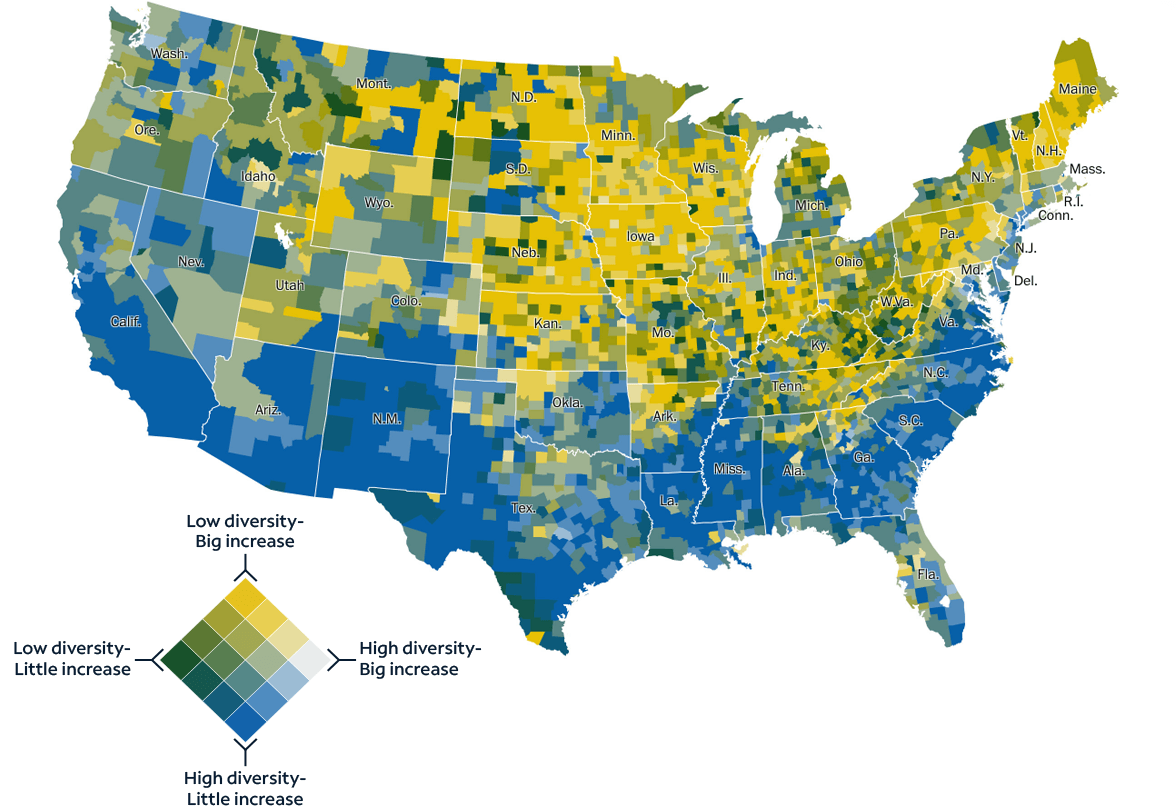 Currently, 53 percent of U.S. households are blended or multicultural1, and 48 percent of the members of Generation Z are from communities of color, making it the most racially and ethnically diverse generation yet.2 And with multicultural consumers representing an incredible $3.9 trillion in purchasing power3, it's imperative to take multicultural audiences into consideration when you're creating an advertising strategy.
So, how do you conquer FOMA? Here are four key strategies.
1
Think beyond traditional content environments
There are common misconceptions that can lead to missed connections when you're trying to reach multicultural audiences. For instance, in-language and endemic networks like BET, Telemundo, and Univision might come to mind as obvious ways to reach Black and Hispanic audiences, but this approach can limit a campaign's reach.
Successful marketing depends on the ability to reach individual audiences across all channel options and platforms on which they are consuming content. In our multicultural world, you must think beyond traditional content environments to find and engage customers. This leads us to our next key strategy.
Data shows that only 37 percent of Hispanic viewership and 11 percent of Black audience viewership is among in-language and endemic content.4 If you were trying to reach a target audience of bilingual Hispanics 25-54 in the LA market and you attempted to reach them by advertising only on Telemundo and Univision, you would miss 57 percent of your audience.5
If you tried to reach a target audience of English-speaking Hispanics 25-54 in the LA market with only Telemundo and Univision, you'd miss 67 percent of your audience.5
2
Streaming TV is a must for any advertising strategy
Advertising on streaming TV adds a 28 percent lift to any linear-only campaign.6 And statistics show that multicultural audiences are streaming at higher rates than the general population. Hispanic viewers stream at a rate that is 16 percent above average, and Asian audiences have delivered a significant increase in their use of connected TV, up an average of one hour and 46 minutes per week, year over year.
Recent research reflecting time spent weekly with different types of TV by adults 18-34 also illustrates how prominent streaming TV has become:
3
Increase your reach through multiscreen campaigns
These days, premium content is consumed on many different screens. In a world where TV is no longer limited to a particular device, a multiscreen approach for your advertising strategy is mandatory to counteract FOMA. When you adopt a multiscreen advertising strategy, you're reaching multicultural audiences who have embraced cross-screen viewing.
A study of bilingual Hispanic audiences in Los Angeles demonstrated the effectiveness of a multiscreen approach. By advertising on Telemundo and Univision only, you would reach only 42 percent of your target audience. However, that number rises to 85 percent when you add Spectrum Reach multiscreen capabilities and reaches 100 percent when you add online and Spanish-language broadcasters.8
4
Harness the power of local reach
Finally, think local when combating FOMA. By understanding the demographic makeup of the markets you're advertising in, you can better understand how to reach your target audience in a culturally relevant and authentic way. Local media partners that live and work in your target market can make all the difference when it comes to executing an advertising strategy. They know what will resonate with the audiences you want to reach. Seek out a media partner with local reach, creative capabilities, and data-based targeting tools. At Spectrum Reach, we believe that a local approach and multi-market scale will help you find and reach exactly the audience you're seeking. That's how we're able to reach up to 95.1 percent of Hispanics in Los Angeles.9
So, how do you FOMA-proof your advertising?
Know your audience and target beyond broadcast, in-language, and endemic content environments.
Include streaming TV in any advertising strategy.
Increase your reach through multiscreen campaigns.
Take a local approach to connect with your audience across multiple markets.
Sources:
(2)

Pew Research Center 2018.

(3)

eMarketer by Selig Center for Economic Growth, 2019; eMarketer; Nielsen 2019.

(4)

Nielsen, Spectrum Reach Footprint Share of Impressions by demographic, Average AA A18-49 Imps by Network, Ad Insertable Broadcast and Cable Full Day; Nielsen, Spectrum Reach Footprint Share of Impressions by demographic, Average Hispanic A18-49 Imps by Network, Ad Insertable Broadcast and Cable Full Day.

(5)

Scarborough Los Angeles, CA 2021 Release 1 Total (Jan 2020-Jan 2021: Extrapolated by PrimeLingo).

(6)

Spectrum Reach AM Campaign Data. Date – 4th Quarter '20. O&O & Partner Affiliates. *Includes all campaigns with Streaming TV & Linear. Total Campaigns – 5,758. *Streaming TV Lift - % of new HHs reached. **Results based on averages, results will vary and not all campaigns will achieve +28% lift.

(7)

Nielsen Total Audience Report 2Q'20 Released March 2021.

(8)

Scarborough Los Angeles, CA 2021 Release 1 Total (Jan 2020-Jan 2021) among specified target. Extrapolated by PrimeLingo.

(9)

Scarborough, Prime Lingo LA DMA 2021; Target: Hispanic HH with access to Internet and Owns a SmartPhone.