In this article:
How do I include marketing and advertising in my budget? It's a common question for business owners. You can't afford to overspend, but you also don't want to spend so little that you get no results. Even if you have the vision of a Fortune 500 CEO, after paying employee salaries, utilities, and rent, you may be tempted to give up on marketing. But, by following these three steps, you can create an affordable, effective marketing budget and set your business up for success.
Ask yourself straightforward questions about what you want to accomplish with your business in the near and far term, and what it will take to get there. Here are a few sample goals, as well some questions to frame your aspirations:
Goal: Build a brand and grow brand awareness
Have you defined your brand message? What separates you from your competition and defines you as an expert in your field? Just as importantly, have you identified the profile of your ideal customer (age, income level, interests, peer brand purchases etc.?) Once you have answered these questions, you can begin to build a marketing campaign to ensure your brand's message is reaching your target audience.
Goal: Drive More Traffic
Do you a have brick-and-mortar location, and is a major priority to increase foot traffic? Or are you online only and therefore is web traffic a big concern? Set a benchmark for monthly, quarterly, and yearly traffic increases.
Goal: Increase Sales
You can organize a marketing campaign around increasing sales of a new product or service. Is your product sold mostly online or in-store? What percentage increase in sales are you seeking? It is important to define specific goals containing measurable results, a defined timeframe, and concrete criteria for success that you can accomplish.
2
Define your total marketing spend
What does an average marketing budget look like? According to research and consulting firm Gartner, average marketing spends in 2022 will range between 6.4 and 9.5 percent of company revenues across almost all industries.1 The U.S. Small Business Administration recommends allotting seven-to-eight percent of your gross revenue to marketing and advertising if you're earning less than five million a year in sales and your net profit margin (after all expenses) is in the 10 to 12 percent range.2
Here's how that average advertising budget might look:
$500,000 Gross Revenue = $40,000 Marketing Budget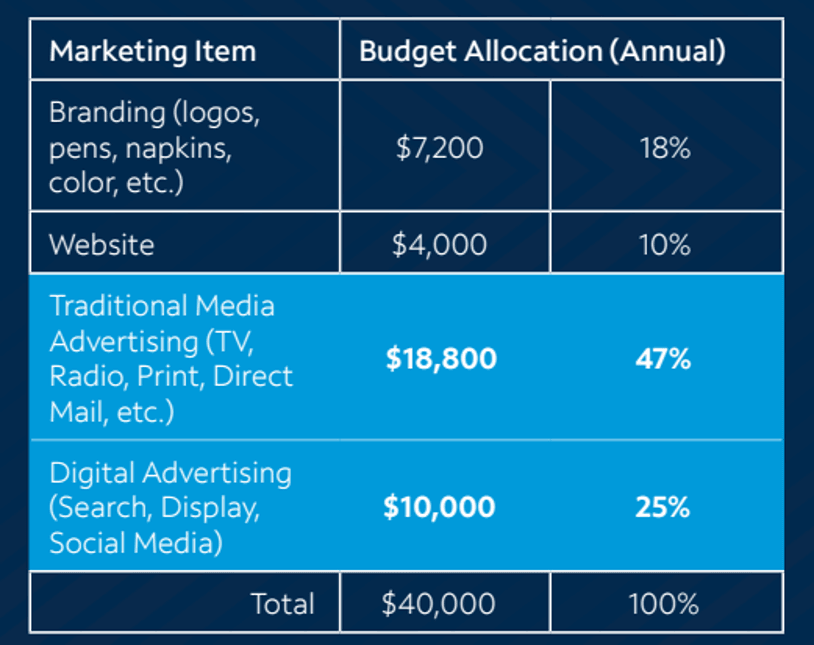 By focusing on building brand awareness, increasing traffic, and growing sales, you're already equipped with an effective basic marketing and growth strategy. From there, planning how and where to spend your advertising dollars is the next step.
3
Put Your Advertising Dollars into Action
If you want to increase brand awareness and grow your business, invest in an advertising strategy that delivers results. Recent studies confirm that TV ranks number one in consumer time spent with media. TV reaches more adults than any other platform. Americans split their time fairly evenly between TV—both linear TV and streaming TV—and digital media, such as apps on smartphones. However, 62% of consumers consider TV the strongest driver of their awareness about a product or service.3
It's never been easier to find your target audience across all of their screens with new data-driven campaign development tools. As your advertising campaign runs, apply measurement metrics and insights to fine-tune your media activity based on what's providing the most impact against your goals. Look for advertising providers like Spectrum Reach that can provide insights on how many homes saw your ad and how often they saw it, as well as new measurement metrics like multiscreen attribution that can provide insights on how many homes went to your website as a direct result of seeing your ad on TV and Streaming TV.
Make the Investment
By following these steps, monitoring results, and learning to see marketing as an investment, not just an expense, you'll make advertising work for your business.
Sources:
(1)

"What Marketing Budgets Look Like in 2022," Gartner. https://www.gartner.com/en/articles/what-marketing-budgets-look-like-in-2022

(2)

U.S. Small Business Association, "How to Get the Most from Your Marketing Budget."

(3)

Nielsen NPower Audience Insights trend 2022